Finished Basements Commack NY
Have you contemplated finishing your basement? Have you envisioned the extra room that will become available by finishing the basement of your home? Making the decision is the first step, and choosing the right company to do the job is most important. The industry leader, in Commack, NY, is USA Remodeling. Using only the cutting-edge designs, materials and technologies, and the most experienced general contractor, USA Remodeling has set itself as the expert in finished basements. For Finished Basements Commack NY, USA Remodeling is the right choice. (631)957-5400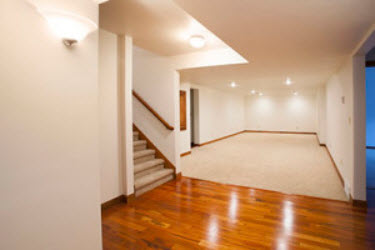 USA Remodeling provides a free basement remodeling consultation. During the consultation, we review and inspect the basement and look to understand your needs, wants, and desires. We want your finished basement to be more than you could imagine. Some of the many finished basement services USA Remodeling offers include:
All in One Engineered Wall Panel
Flooring Options
Trim Work
Wall Insulation
Drywall
Lighting Solutions
Painting
Bath Installation
Wet Bars and Basement Kitchens
We will convert your basement into the room needed in your home, whether it's a simple extra room, living quarters, or even a man-cave. We have the experience to make it incredible. The objective is making the finished basement a continuation or extension of the main living area of the home, with a seamless transition. At the moment, your Commack basement is most likely cold, cramped, and surrounded by concrete. When USA Remodeling is done bringing your vision to life, it might just become the most popular room in your house. With the typical Commack basement being one-third of your home's space, why not add 600 to 900 sq. ft Or More?
Deerpark Finished Basements with Egress Windows for Safety
A finished basement is an exciting addition to your home with additional room for growth, entertainment, and more. However, one exit from the basement can be a danger to you and your family. A severe damage if a fire starts and is blocking the only exit. How would they escape? The solution involves the installation of an Egress Window. An Egress Window is a window explicitly designed as an emergency exit. According to the International Building Code, an Egress Window requires an opening with a minimum height of 24 in. and 20 in. wide with an overall square footage minimum of 5.7 sq. ft. Additional requirements include:
The bottom of the clear opening must be within 44 in. of the floor.
The window or other opening must be operational from the inside without keys or tools.
City Ordinances may have additional requirements to the regulations in the International Building Code. Understanding the requirements can be daunting when installing an Egress Window for your Deerpark Finished Basement. USA Remodeling can discuss useful locations, space accommodation and sizing. Locating the proper window is easy once we have the required measurements and aesthetic goals in mind.
Commack Finished Basement Expert
USA Remodeling does not believe in cutting corners, only quality service, and products for all home improvement projects. This belief, coupled with our expert professionals and dedication to customer service, has helped USA Remodeling to become the most trusted remodeling company in Commack, NY. When you partner with USA Remodeling on a remodeling project, especially a finished basement project, you will receive peace of mind along with industry-leading products.
If you would like to learn more about finished basement service for your home remodeling project, give one of our Commack team members a call. (631)957-5400
Don't worry about all of the details that is our job. Contact us today, and we will provide a free home consultation to help you get the most out of your current home improvement or renovation project. (631)957-5400
The possibilities are endless!