Kitchens-Bathrooms Remodeling & Renovation – Nassau & Suffolk County
We have all walked into our kitchen or bathroom and thought "Wow, this place really could use a makeover." We dream of kitchen that even the most famous of chefs would be envious of or a bathroom that is not only luxurious but extremely relaxing. USA Remodeling, Inc. can make your dream come true. We are the remodeling experts in Nassau and Suffolk Counties. From kitchen remodeling and bathroom remodeling to room additions or handicap accessible updates, no remodeling job is too big or small for USA Remodeling.
Kitchen Remodeling
The kitchen is the most travelled room in any home. At least three meals a day are prepared and often family and friends hang out in the kitchen. It's the place you enjoy your morning cup of coffee and prepare that special family dinner. Its only natural that you would want it to look awesome and be fully functional at the same time. You know what you want your kitchen to look like and we can make that happen. Maybe you want something as simple as an island addition or update or a complete redesign. Our team, at USA Remodeling, of experts have the experience to help you through every step of process, from design and planning to tear-down and buildout.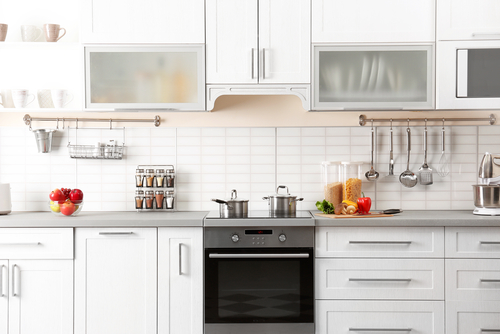 Kitchen remodeling is one of the top methods of increasing the value of your home and make this shared gathering place more efficient, functional, and beautiful. Yes, kitchen remodeling can carry a large price tag, it is more beneficial to think about the new design as an investment rather than just a cost. Cost is dependent upon many factors and our expert team can make sure your design, dream, and budget all mutually work together.
Kitchen remodeling requires many things to be considered:
Will a new kitchen design provide better working space or do walls need to be opened to provide more room?
What is the best placement for cabinetry, appliances and islands so they create an easy flow for usage and accessibility?
What type and finish of cabinetry and doors will work well in your home to create the desired look and appeal?
What built-in storage compartments and accessories should be considered and in which cabinets should they be placed?
Countertop options to consider: Do you prefer quartz, marble, stainless steel, wood, ceramic or granite?
What would work best for your style of cooking and entertaining?
Patterns, solids, and stains need to be chosen, but this choice is dependent upon your choice of backsplash, wall covering and flooring patterns and colors.
Faucet and sink options and kitchen appliances.
What types of lighting do you need and where is the best placement?
Flooring can vary depending on kitchen traffic: would ceramic, wood, stone, granite or marble be your best option for appearance, durability and comfort?
Surprisingly, there is much more to consider and decide in kitchen remodeling, however, with the expert help of your USA Remodeling design experts, the selection process will be truly enjoyable and your completed kitchen magnificent.
Kitchen remodeling may seem like an intimidating and time-consuming job at the outset with the design and plans. However, working with USA Remodeling, this process will be much smoother and more cost effective. Remember, keep the end goal in mind. Putting in extra effort in planning and dealing with inconveniences, which we will work to minimize, for a short period of time during your remodel and renovation will pay off with a functional and beautiful kitchen for years to come.
Bathroom Remodeling
As with kitchen remodeling, bathroom remodeling starts with a dream and USA Remodeling works with you to make that dream a reality, from a shower change to full bathroom remodel. The question then becomes, what does your dream bathroom look like? Let's start by using your imagination. Imagine stepping through doors in your home that lead to a quiet luxurious sanctuary where you can unwind, re-energize and revitalize your body and mind every day. Sounds pretty good right? USA remodeling can make that vision a reality with the help of our bathroom remodeling experts. They can design a luxurious retreat and that outfits your space with unique innovations in bathroom design. Luxury baths and showers that soothe and restore while heated floors, towel warmers, fireplaces and surround sound create ambiance for a luxurious spa-like experience. From small and cozy to spacious and lavish, a USA Remodeling bathroom renovation will pamper you in well-earned style.
Bathroom remodeling design options are basically infinite, and not limited by space considerations. Marvelous fixtures can be retrofitted into a pre-existing space turning an ordinary bath into a lavish retreat. Texture, color, and dimension are well-defined by our home bathroom experts with the creative use of floor and wall tile, decorative fixtures, countertops and bathroom accessories. Cabinetry provides elegance and storage and is available in a variety of styles and finishes. Detail found in hardware, lighting and mirrors reinforce the overall design concept. Whether your space is large or small, Normandy Remodeling will combine design elements with innovative materials to make it spectacular in comfort and appearance.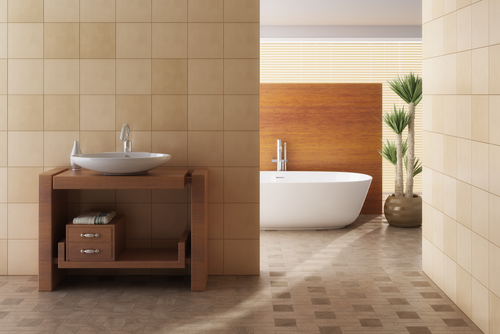 Contact USA Remodeling Inc. to learn more about how we can provide you the perfect kitchen or bathroom. Offering kitchen and bathroom remodeling and renovation service for Nassau County and Suffolk County. (631)957-5400
USA Remodeling also offers:
Deep Dovetail Sliding Shelves These sturdy tray kits to fit both standard base and utility cabinets.
Quality All Plywood Construction (APC)
We meet Hardwood Plywood & Veneer Association Standards for Interior Grade-Plywood
1/2″ Plywood Exterior with Beautyguard® Finish
Natural Woodgrain Laminate Standard Interior
Matching Interior Option Available for Select Wall Cabinets
Maple Auburn Glaze is available on all Portfolio Select® and Portfolio® door styles. This premium deep brown glaze adds definition and enhances the rich base Cognac finish.
Painted Maple Linen is a premium and luxurious opaque painted finish on maple hardwood. Available on Sierra Vista® maple and Rushmore® maple.
Kitchen Remodeling Gallery
Bathrooms Remodeling Gallery