Your Long Island Roofing Company – USA Remodeling Long Island, NY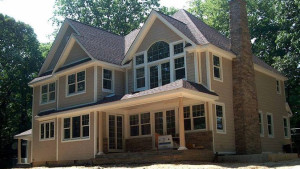 When it comes to your Long Island roof, prevention and maintenance are key. By taking the time to maintain the existing roof on your home, you'll find that you'll be able to squeeze many more years out of it than you may have expected to.
A properly maintained roof can often outlive even the manufacturer's warranty. We're the Long Island Roofer to call when you need a new roof, or when you need your current roof repaired.
Roofing Systems by USA Remodeling Long Island, NY| Local Roofing Company
A new roof on a new home needs to be properly installed and maintained in order to give your roof the life expectancy it deserves. We're the Long Island Roofing Company that has installed the most roofs throughout Nassau and Suffolk County including Lindenhurst, NY.
If you've got a neighbor and they brag about having their roof for a long time, chances are it's probably one of ours. When we install a new roof, we take care to remove all of the previous roof shingle materials safely and securely. Installing a new roof is no small task, so we make certain to work as quickly and efficiently as possible, to ensure that your home is properly protected against the elements and that your roof is functioning as it should be.
We're an honest roofing company on Long Island, and we're not looking to make a quick buck. We often get calls from clients that tell us they need a new roof installed. Our professionals are trained experts. When we look at a roof, we can tell you what needs to be fixed and what actually needs to be replaced, saving you money and time.
Design your new roofing with Owens Corning Roofing Products
Design your new roof with Certainteed Roofing Products
Design your new roof with GAF Roofing Products
Long Island Roof Repair
If your roof has been determined to need a repair, we'll do everything possible to get it fixed fast. Our quick repair comes from years of experience in the industry, not cutting corners or omitting steps. We're the Roof Company that gets the job done right the first time. If you're experiencing a leaky roof, you might not really need a replacement at all. You might just need roof repair. We get calls all the time from people thinking they need new roofs and immediately asking about the price.
Roofing Installations & Repairs, Long Island, NY| Roof Replacements by USA Remodeling| Local Roofing Company
We always suggest having us take a look at your roof first, as we might be able to fix your roof problem with some new flashing or a minor repair, and with maintenance, we can easily give some more life to your aging roof. Homeowners throughout Nassau and Suffolk know that for the best opinion, we're the Long Island roofer they call.
Residential Roofing Service & Repairs by USA Remodeling| Local Roofing Company
Residential roof problems can be tricky to diagnose. If you call a roof specialist that only has experience in commercial properties, you won't get someone that can call themselves residential experts. We're the residential roof expert that has plenty of experience with residential homes across Long Island. We can work within your budget to make repairs, maintain or install your roof the way you want it. We have a wide selection of roofing options to satisfy the most discerning of tastes and, as always to fit within your budget.
Roofing Installation Company Long Island, NY| Repairs & Installations- Many Styles and Colors| Local Roofing Company
USA Remodeling Inc. Roofing Project Gallery
Please look at our other services available including roofing, windows, decking / railing, siding, and handyman services.